ANNA SCHOLL
EXECUTIVE DIRECTOR
Anna was raised in Virginia's Shenandoah Valley and graduated from the University of Virginia in 2006 (Wahoowa!). After working on a congressional campaign in Central Virginia, she moved to the big city: Washington D.C. As an associate at Kennedy Communications, Anna's work ran the gamut from research to direct mail to online communications.
A Virginia girl at heart, Anna moved back to Charlottesville in 2010 to work for Congressman Tom Perriello's reelection campaign. In June 2011, Anna joined ProgressVA as the founding Executive Director.
Anna lives in Albemarle County with her husband, Stephen, and her spoiled rotten puppy, Bartlett, where she can frequently be found making a big mess in the kitchen.
LATWYLA MATHIAS
DIGITAL DIRECTOR
LaTwyla Mathias is a digital strategist and tireless progressive who uses her 12 years of political experience to produce dynamic and creative online campaigns. Originally from South Carolina, LaTwyla has worked in democratic politics and advocacy organizations across the east coast including Planned Parenthood, The SC House of Representatives, The National Coalition of STD Directors, and various other political and issue-based campaigns.
LaTwyla is a graduate of Washington and Jefferson College (Washington, PA) and most recently worked at The Campaign Workshop where she consulted on political and issue campaigns for almost 2 years. Her work was focused on direct mail, research, and digital programs for various clients across the United States.
LaTwyla lives in Washington, DC where she enjoys collecting vinyl records, trying new restaurants, and traveling.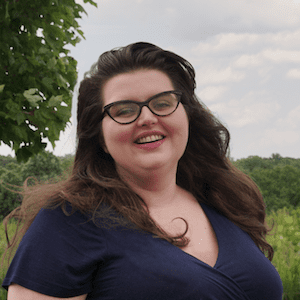 ASHLEIGH CROCKER
PROGRAM DIRECTOR
Ashleigh Crocker grew up in Charlottesville and caught the political bug for the first time in 2005, when she first volunteered for Tim Kaine's campaign for governor as a high school student. Since then, she has worked on a number of federal, state and, local campaigns, including both of Tom Perriello's campaigns for Congress in 2008 and 2010.
After graduating from JMU in 2012, Ashleigh started work in the development department at a local non-profit. Since then, she has enjoyed working with a variety of nonprofits and campaigns on fundraising and communications work, and she was thrilled to have the opportunity to move back to Charlottesville and join the team at Progress Virginia.
Ashleigh lives in Charlottesville with her husband, David. When she's not working hard to ensure progressive victories, she can be found at bettycrockersdaughter.com, where she creates and photographs delicious vegetarian food.
TANEASHA WHITE
PROGRAM MANAGER
Taneasha White is a military brat who now calls Richmond home. She graduated from Virginia Commonwealth University and has spent her time in RVA creating space for marginalized voices through advocating for mental health of the Black community as well as education and rehabilitation of folks affected by incarceration.
Most recently, Taneasha's focus has been on the gaps of reproductive healthcare access to minority communities, shown through her work for NARAL Pro-Choice VA, her continued volunteering with the Richmond Reproductive Freedom Project, and the ongoing period poverty donation drive she co-founded and co-leads #Campaign4ComfortRVA. Currently, she is working with Progress Virginia as the Program Manager for the Women's Equality Coalition, aiming to build power, educate, and create space through bridging progressive causes.
Taneasha's spare time is used to co-host a radio show entitled Critiques for The Culture, along with spending time with her partner, and her cat, Chimichurri.
JEN LAWHORNE
DIGITAL ORGANIZER
Jen Lawhorne is a multilingual Fulbright Scholar and videographer. She grew up in Prince William County and transitioned to Richmond where she earned her bachelor's and master's degrees at Virginia Commonwealth University. She also bounced around the U.S., Mexico, South America and Europe where she picked up Spanish and Italian while living, studying, and working.
Jen's proud to call Richmond home again, spending her free time paddling on the river, watching old movies at the Byrd and taking in sunsets. Forever a spirited activist, Jen wants to help elevate the voices of Virginians who are fighting for a better future for all.
MEEKA AHEVONDERAE
COMMUNICATIONS ASSOCIATE
Meeka's activism began as a member of the Political Education and Action Committee (PEAC) at Howard University, where she studied Political Science and Africana studies. Through PEAC she protested against mass incarceration, unjust policies, and racial inequality. After graduation, she was awarded a 2014 Freedom Summer Fellowship. This allowed her to travel throughout Virginia to register voters from predominately Brown and Black communities including immigrants, persons with felony convictions, and homeless citizens while advocating to change policies that unfairly targeted people of color. She also contributed to organizing and marketing the District of Columbia's Office on African Affairs' 3rd Annual African Festival and moderated numerous community forums held by the office.
Meeka enjoys traveling and trying new foods. After living and working in West Africa, she is now fluent in French and conversational in Wolof, the lingua franca of Senegal.