[vc_row][vc_column][vc_column_text]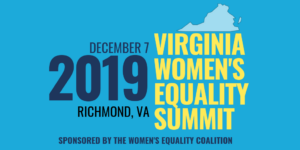 [/vc_column_text][/vc_column][/vc_row][vc_row][vc_column][vc_column_text]
December 7th, 2019
9am- 4:30pm
Delta Hotel
555 E Canal St, Richmond VA 23219
[/vc_column_text][/vc_column][/vc_row][vc_row][vc_column][vc_column_text]
The Women's Equality Coalition is gearing up for an exciting summit this December!
This winter, we're gearing up for the legislative session and our annual Lobby Day with a Saturday jam-packed with content on racial Equity + reproductive health, rights and justice from our member organizations and community partners, including Progress Virginia, The Virginia Civic Engagement Table, The Virginia Latina Advocacy Network, and NARAL Pro-Choice Virginia.
Check back here for updates on workshop and panel content!
Space is limited, so be sure to reserve your seat as soon as possible! 
Tickets are $15 for general admission and $7.50 for students
This gets you: 
Access to 6 sessions led by on-the-ground activists and advocates

Complimentary breakfast and lunch 

Free resources from local organizations 

A full day of networking and community building opportunities 
Scholarships are available! To request, fill out the form here. (A link will be here). 
There will be Spanish-English interpretation! If you have any other accommodation requests, please let us know.
[/vc_column_text][/vc_column][/vc_row]