Lots of people think that getting an abortion is as simple as making an appointment at the doctor's office and showing up for the appointment. But unfortunately, that is not the case at all. Instead of going to your regular doctor, people seeking an abortion have to make an appointment at a special clinic and might have to travel a long distance, depending on where they live.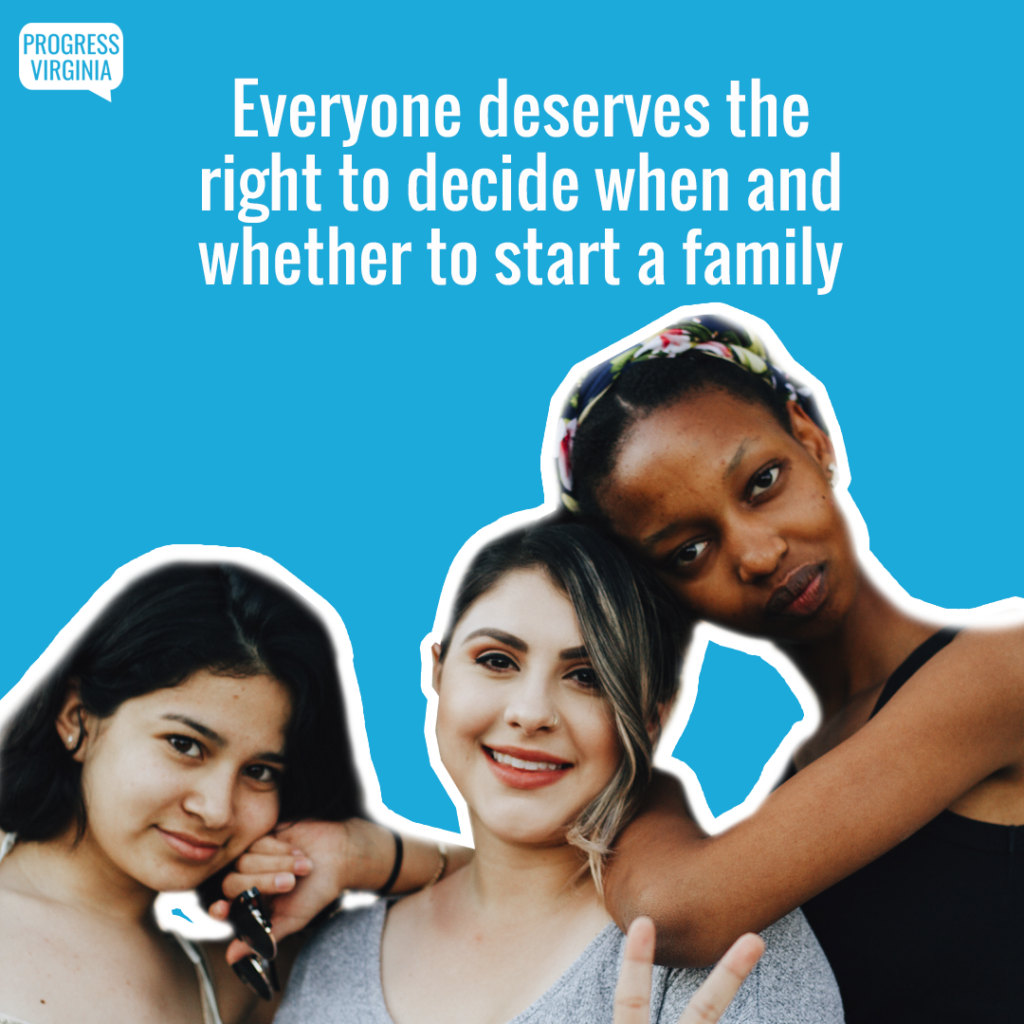 Even if you can get to the appointment, you might have to figure out how to pay for it since most insurance companies don't cover abortion care. The average cost of an abortion is $500 out of pocket, and most people don't have that kind of cash lying around. That's why this year, we're supporting the Reproductive Health Equity Act (RHEA), which requires insurance companies to cover the full spectrum of reproductive health care, including abortion, regardless of income level, race, gender identity, and immigration status can access affordable abortion care if and when they need it.
Read below for three reasons why we need to pass RHEA during the next General Assembly session.
No Matter What Happens to the ACA, RHEA Makes Sure Everyone Can Access And Afford Birth Control
Everyone should have the opportunity to choose how and when to have children, and that means everyone needs access to affordable birth control that works for them. RHEA requires all health insurance plans in Virginia to cover preventive reproductive health services (like birth control) without imposing co-pays, deductibles, or coinsurance. This is already part of the Affordable Care Act (ACA), but in October 2017, the Trump Administration reversed the contraceptive coverage mandate and put countless Virginians at risk of losing access to affordable birth control. When we pass RHEA, everyone will be able to get birth control that works for them, regardless of who the president is or how much money is in their bank account.
2. RHEA Specifically Protects Reproductive Healthcare Access for Undocumented Immigrants, Transgender, and Non-Binary People
Access to reproductive health services is vital to a thriving community, and we believe everyone should have access to them. And when we say everyone, we mean everyone. That's why RHEA has specific provisions that protect transgender, non-binary people and undocumented immigrants. This ensures that everyone who needs access to reproductive healthcare can get that access.
When people are misgendered, they can have difficulty with their insurance, like being denied necessary transition-related care or having a claim denied for a gendered procedure such as a PAP smear or prostate exam when their gender identity was not aligned with who an insurer expected to need such care. RHEA will prevent that from happening and make sure that transgender people can get the health care they need when they need it, just like everyone else.
Immigrants are working hard to care for their families and give back to our communities. When they are thriving, our communities are thriving. We should support immigrants and their families, not put up extra roadblocks to their health and wellbeing. Immigrants are an important part of our community, and it is a moral obligation to ensure that undocumented people have the same access to vital health services as everyone else. Passing RHEA would make sure that happens.
3. RHEA Keeps Abortion Safe, Legal, and Accessible
The right to choose whether and when to have children is under attack. With Brett Kavanaugh and Amy Coney Barrett on the Supreme Court, it is not only possible, but likely that some or all of Roe v. Wade will be struck down, limiting access to abortion. It's critical that all Virginians have the freedom and dignity to make their own personal and private healthcare decisions, including the fundamental right to choose to carry a pregnancy to term or have an abortion. So, RHEA ensures that the affirmative right to access to abortion is part of Virginia law.
Anti-family politicians want to take away reproductive choices by restricting insurance coverage for abortion. This jeopardizes everyone's health and disproportionately impacts low-income people, immigrants, people of color, and young people by obstructing their access to health care. Regardless of what these extreme politicians think, we all deserve the peace of mind that we can obtain the health care we need, however much money we make or wherever we get our insurance. When we pass RHEA, everyone will have that peace of mind and know that they can get an abortion if and when they need it.
Email Your Representatives and Demand They Pass RHEA Now!
RHEA presents a strong vision for the future of reproductive health care access, and passing it won't be easy. But with your help, we can make it happen. Join us in emailing your representatives and demand they support HB1922 so that every person, regardless of skin color, income, zip code, immigration status, or gender identity, can access the reproductive health care they need and make decisions about how and when to have children for themselves.