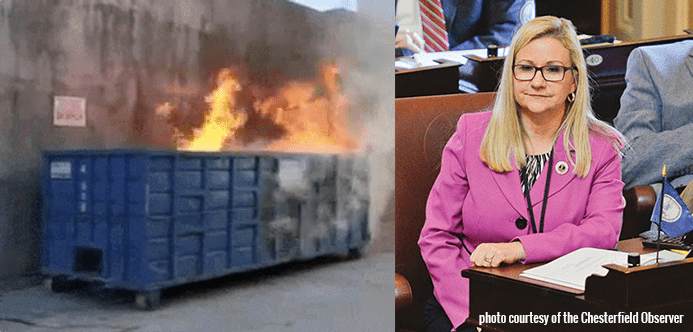 OK, so you may be thinking that it is a little harsh to call Senator Amanda Chase a dumpster fire, but seriously, this year, she has been embroiled (see what I did there?) in one scandal after another. From cursing out a Capitol Police officer for not letting her park wherever she wanted, to literally threatening to shoot gun violence prevention activists in a campaign ad, I think after reading this blog, you'll agree that calling her a dumpster fire is being generous.
1. Senator Chase Cussed Out a Capitol Police Officer For Doing Her Job
Earlier this year, Senator Chase found herself in some hot water with law enforcement when she tried to park in a secured area illegally. Instead of doing what a normal person would do and simply finding somewhere else to park, Senator Chase cursed out the officer, which she first denied, and then later admitted to. In her tirade, Senator Chase said "Do you know who I am?" and later bafflingly said the officer "thought [she] was white privilege." You can read more about this incident and the fallout in our blog here.
2. Senator Chase Carried a Gun While Presenting Bills to Deter "Over-Exuberant Folks"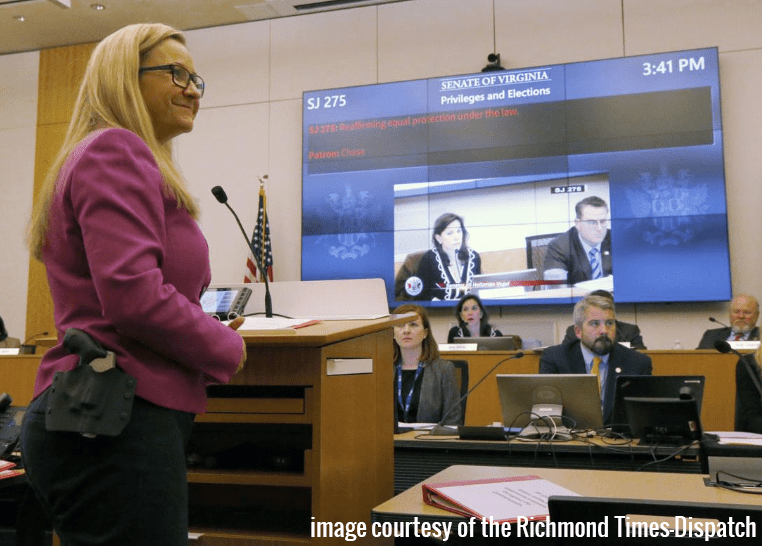 Apparently, Senator Chase is so afraid of her constituents that she feels the need to carry a gun when she presents her bills. While she always carries a concealed weapon, she decided to openly carry her .38 caliber revolver as a "deterrent" after seeing Senator Dick Black surrounded by a group of Latinx pro-immigrant rights activists.
Um, what? Is she going to shoot anyone who disagrees with her? I certainly hope not. Senators should be able to have respectful discourse with their constituents––even those who disagree with them. Threats of violence do nothing to help people find common ground.
3. Senator Chase Ran a Campaign Ad Threatening to Shoot Gun Violence Prevention Activists
Speaking of which, it seems like, yes, Senator Chase would like to shoot people who don't agree with her, since she literally ran a campaign ad threatening to do so.
4. Senator Chase Said If You're A Woman Who Doesn't Carry A Gun, Don't Be Surprised When You "End Up Raped"
I guess after reading all that, it comes as no surprise that Senator Chase thinks people who don't carry guns with them at all times will end up getting raped. In a Facebook post, she wrote "It's those who are naive and unprepared that end [up] raped," Chase wrote. "Sorry. But I'm not going to be a statistic."
That is obviously some victim-blaming bullsh*t, and Senator Chase seemed surprised when she got backlash for her comments. She released a video in which she doubled down on her comments and didn't apologize. She blamed "leftist trolls" for the controversy, instead of her obviously horrific comments.
Survivors of rape and domestic violence do not deserve to be blamed for their assaults. It is never a survivor's fault, and we need a Senator who knows that and supports survivors.
5. Senator Chase Was Disowned By Her Own Political Party
A feud with Chesterfield County Sheriff Karl Leonard got Senator Chase kicked out of the Chesterfield County Republican Party. She was kicked out because she supported the independent candidate over the Republican candidate and that's against party rules. And if you look at #1 above, this isn't the first time Senator Chase has had run-ins with law enforcement.
With all of the drama Senator Chase brings with her, who can blame Chesterfield Republicans for not wanting her? Unfortunately, she's still on the ballot for the 11th District as a Republican, but we have the opportunity on November 5 to vote her out of office once and for all. Be sure to check out our Virginia Progressive Voters Guide to see who will be on your ballot and, most importantly, join me in voting on November 5 for candidates who are the polar opposite of Amanda Chase.
Check out other 2019 Election coverage from our blog: 
Glen Sturtevant Is Interfering With School Zoning and Trying to Keep School Segregated
House of the Rising Women Part 1