I don't know about you, but I'm still basking in the glow of numerous midterm victories in Virginia. It is amazing how many people came up to me after the election simply saying, "Can you believe how much we won??" Yes, I can. And chances are, you can too because you know how many of your friends, neighbors, and co-workers came out to vote, to call, to knock on doors, to email—in unprecedented numbers. We have a lot to celebrate. And a lot to do.
But before we turn to that important work, let's take a minute to reflect on how this happened, and what it actually means for Virginia moving forward.
When Congressmen Taylor and Brat Voted to Take Away Your Healthcare, You Voted Them Out of Office
By taking a look at a couple of the notable upsets—the defeat of Congressman Scott Taylor in Virginia's 2nd District and Congressman Dave Brat in the 7th District–we can see that healthcare was the dominant issue during the 2018 midterm elections.
We heard from the pundits that re-election for these guys was a done deal. But once voters made their voices heard on how they felt about Republican plans to strip away healthcare, that deal turned sour.
Both Brat and Taylor voted to repeal the Affordable Care Act in 2017–a move that would have caused 565,000 Virginians to lose health coverage. That's a lot of people who wouldn't be able to see a doctor when they get sick. Too many in fact.
So, voters in the 2nd and 7th Districts kept sticking it to them. You kept showing up at meetings with Dave Brat and asked him on camera to defend why he voted to take away healthcare from 49,700 people in his district. You showed up to protest Scott Taylor when he rallied at the "Pro-Tax Cut Tour" in April because he voted for a Trump's Tax Scam that benefits the rich while cutting people off from healthcare.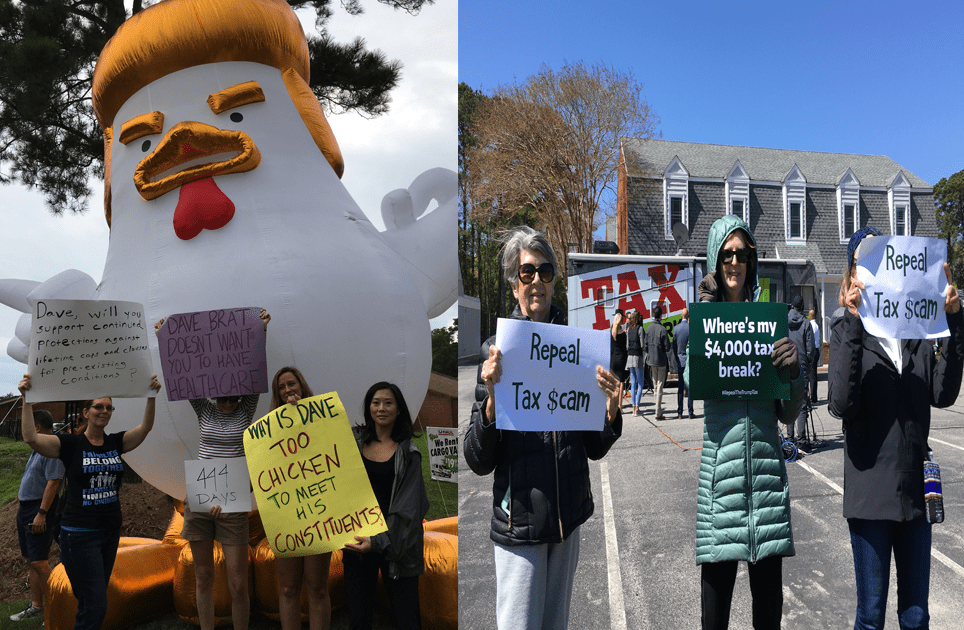 We didn't give up. And neither did you. And neither did Democrats, Abigail Spanberger and Elaine Luria, the women who defeated Brat and Taylor, respectively.  
What Does This Say About Virginia's Future?
It is the strongest evidence we have to date that individual voices DO matter. It's not just activist-speak. Voters like you turned out in record numbers. We proved the so-called pundits—who were so sure that they understood their communities' values and priorities—wrong. Flat out wrong.
Virginia is becoming a more progressive state because of voters like YOU. Now that the midterms are over, we've got to deliver on those votes by holding our newly elected leaders accountable to the progressive values that we voted for.
All Eyes On The 2019 General Assembly
We now have to turn our attention to the upcoming 2019 General Assembly legislative session, where state lawmakers will gather to chart the course for the Commonwealth. The General Assembly starts on January 9 and we need you to stay just as informed and involved as you were with the midterm elections. Stay tuned with Progress Virginia as we turn votes into legislative victories for all Virginians.