Heroes – Grassroots Activists Supporting Driver's Licenses for All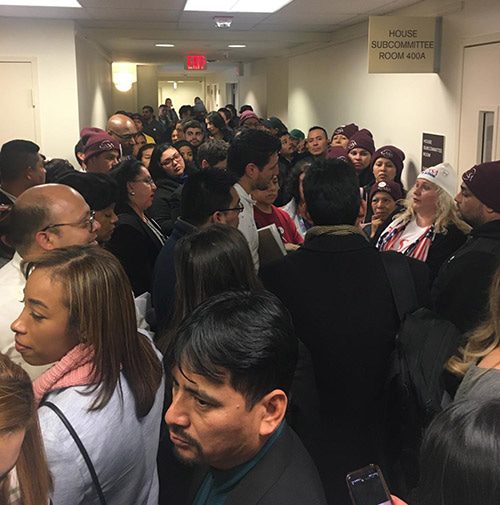 On Tuesday and Thursday this week, an incredible number of activists showed up at the General Assembly to advocate for driver's licenses for all Virginians during House and Senate Transportation Committee hearings. Activists lined up hours beforehand to make sure their voices were heard on this incredibly important issue.
Many immigrants living in Virginia don't have the opportunity to take their kids to school, get groceries, or drive to work because they don't have driver's licenses. Providing driver's licenses for immigrants would help them better contribute to their families and communities while holding all drivers to the same standards of road safety.
It was inspiring to see so many people come out to fight for their rights and hold their lawmakers accountable!
Zero: Delegate Nick Freitas
Our zero for the week is Delegate Nick Freitas for throwing a hissy fit over gun violence prevention legislation that sailed through the House of Delegates this week. In a tweet he sent out on Jan. 29, Del. Freitas said, "Democrats are trying to prematurely shut down debate on gun bills because they are proving that they don't actually understand the unintended consequences."
NOPE. We understand the consequences. More people will die if nothing is done to keep guns out of the wrong hands! The following day, Freitas continued his tantrum on the House floor by complaining that red flag laws give too much power to magistrates, questioning their qualifications to determine whether a person is a danger to themself or others. Delegate Jennifer Carroll Foy, a former magistrate herself, mopped the floor with Freitas. "Every day it was my job to protect the constitutional rights of people," she said. "[Becoming a magistrate] is akin to passing the bar. I know because I've taken two [exams]––one in California and one in Virginia."