Student debt & college tuition have skyrocketed under House GOP's watch
Richmond, VA—Blocking protections for student loan borrowers. Deriding popular proposals to allow student loan borrowers to refinance their loans just like you can a mortgage. Systematically underfunding higher education. Skyrocketing college tuition. Somehow those low points failed to make in into a House GOP press release yesterday hailing their "successes" on higher education costs.
Far from championing student debt solutions and affordable access to higher education, the House of Delegate Republican Caucus has been stalwart in thwarting commonsense proposals to tackle the looming student debt crisis and support the over one million Virginians with student debt.
"We deserve honesty from Speaker Cox and his caucus, not lies and misdirection," said Progress Virginia executive director Anna Scholl. "The truth is that primary barrier to standing up for students has been the House GOP. They blocked the Student Loan Borrowers Bill of Rights three years in a row. They dismissed proposals to make it easier to refinance student loans like you can a mortgage. And under House GOP leadership, college tuition has skyrocketed thanks to their refusal to invest in higher education. Only the House GOP could find something to applaud in that record."
House Republicans defeated a Student Loan Borrowers Bill of Rights in committee in 2017, 2018, and 2019 after the measure received bipartisan support in the state Senate. The proposal would allow the State Corporation Commission to oversee student loan servicers in the same way they do other financial services providers. The House GOP has also repeatedly rejected proposals to allow student loan borrowers to refinance their loans the way you can a mortgage.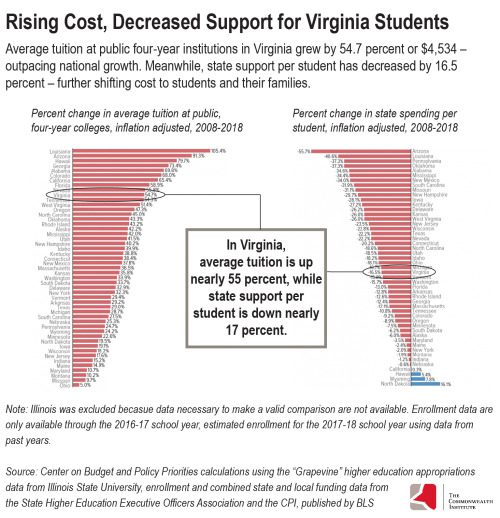 According to The Commonwealth Institute for Fiscal Analysis, average tuition at Virginia colleges and universities has increased almost 55% from 2008 to 2018. Over the same period, per student state support has decreased 17%. Republicans have controlled the House of Delegates and their budget decisions since 2000.
Between 2007 and 2017, Virginia saw a 175% growth in student debt, according to research from the Student Borrower Protection Center, Virginia 21, the Virginia Poverty Law Center, and Progress Virginia Education Fund. Over one million Virginians hold over $39 billion dollars in student loan debt, including 76,000 seniors.