Living in America in 2019 feels like a scene from a dystopian nightmare: Immigration and Customs Enforcement (ICE) agents violently tearing children away from their families at the border, mistreating asylum seekers in unsanitary and overcrowded detention centers, and picking teenagers off the street while they're waiting for their school bus.
As the daughter of an immigrant, I am constantly fluttering between sadness and anger at how Black and Brown immigrants are being treated. I can't imagine being separated from my family and stuck in a cage with no idea about when and if I would see them again.
There is no doubt the Trump administration's xenophobic and bigoted policies have created an extremely hostile environment for immigrants in the country. Fear and distrust have seeped into my otherwise warm and tight-knit Caribbean American communities. People are disappearing, forced to go back to a country they've left over fifteen years ago with no family support or job. I know of at least two people deported within the past year. John's* children are American citizens but they were left with no father when he was deported. Imagine starting your freshman year of college without your father being able to help move you. For me, this is personal. Living in fear of deportation or separation is damaging to the soul and mental health.
Luckily, we have some local heroes in the commonwealth fighting to make Virginia safer and healthier for all of us.
Quisieron enterrarnos, pero se les olvidó que somos semillas.

The tried to bury us, but they didn't know we were seeds
NOVA Activists Respond to Mississippi ICE Raids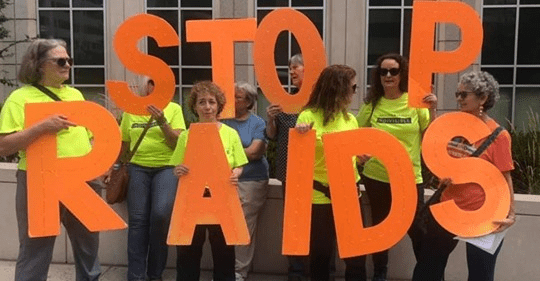 On August 16th, Virginia advocates responded to the ICE raids in Mississippi that arrested hundreds of undocumented workers, leaving countless children abandoned. Local immigrant rights groups Centreville Immigration Forum (CIF), Congregation Action Network, Dreamers Mothers in Action (DMIA), Legal Aid Justice Center (LAJC) ,Virginia Coalition for Immigrant Rights (VACIR), and Virginia Coalition of Latino Organizations (VACOLAO) organized a rally demanding an end to immigration raids, detentions, and deportations that separate families and terrorize innocent children. More than 100 activists protested outside ICE headquarters in Washington, D.C.
Activists Pressure Hotel Chain Not To Work With ICE
This summer, DMV Sanctuary, DC UNITE HERE, Congregation Action Network, and numerous other organizations mobilized to demand that Marriott International stop working with ICE. They put pressure on Marriott by mounting a public awareness campaign and delivering a petition with more than 120,000 signatures to the company's local headquarters, telling Marriott to not allow ICE to use their hotels as temporary jail cells. Marriott International gave in to their demands and issued a statement changing their policy saying that they will not allow their hotels to be used as detention facilities for ICE. Hooray for getting results!
Local Bail Funds Help Immigrants in Detention in Virginia
Santos Bail Fund and the Cville Immigrant Bond Fund provide local immigrant families grants for legal support and no-fee, no-interest loans for ICE bonds. The activists work together with other community bail funds, organizations, activists, community leaders, immigration defense lawyers, and impacted community members to keep families together in Virginia.
UVA Allows DACA Students to Get In-State Tuition and Financial Aid
This summer the University of Virginia announced that it was going to offer financial aid to students with Deferred Action for Childhood Arrivals (DACA) Do you think UVA did that out of the kindness of its heart? No, they did it because of relentless work from students supporting undocumented students at UVA like DREAMers On Grounds. UVA already offers in-state tuition to its DACA students, but many of them are ineligible for financial aid. Providing more economic resources for undocumented students makes education more accessible and helps them accomplish their dreams.
Wanna Help Immigrants in Virginia? Here's How:
You can be an everyday hero, too! We have elections for the General Assembly coming up. Pay attention to where candidates stand on immigration policies. Use your voting power to demand that our elected officials protect all of our community members and spread the word: Virginia stands with our immigrants! Stay up to date on immigrant justice initiative in Virginia by following us on Facebook!
Check Out Other Content on Immigrant Rights in Virginia: