Bills to prevent gun violence in Virginia don't get a vote from all 140 legislators. That's because they're defeated early in committees or subcommittees dominated by Republicans––one of them being State Senator Glen Sturtevant (R-10). He's part of a cohort of Republicans that does the bidding of the gun lobby and kills commonsense gun violence prevention measures when they are heard in the Senate Courts of Justice Committee.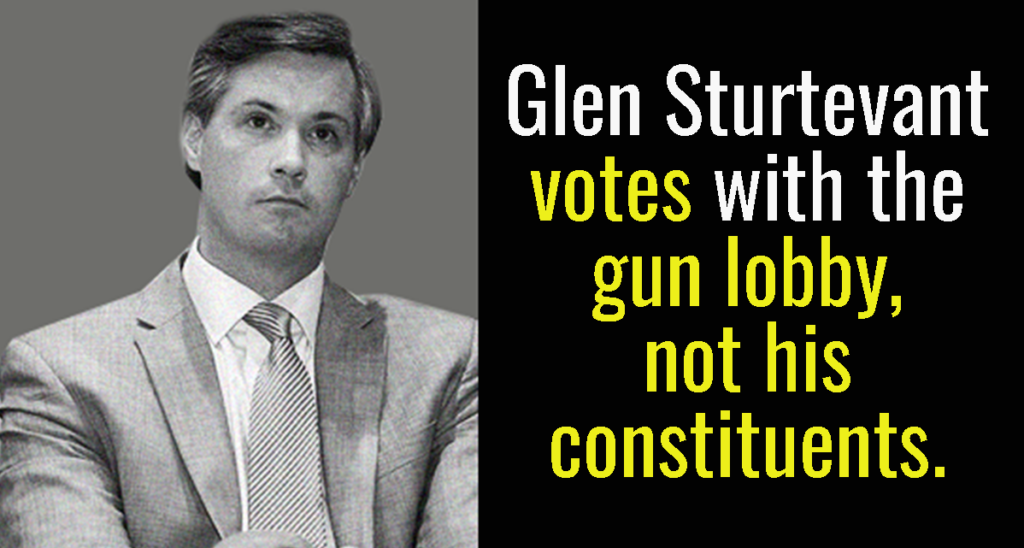 I sat through a few committee hearings where bills on gun violence prevention were introduced. Usually, supporters of gun violence prevention filled the room, giving impassioned pleas asking our lawmakers to vote for legislation that would make them feel safer in their communities, work, places of worship, and public buildings.
It just makes sense right that lawmakers would act out of the interest of their constituents' safety, right?!
Virginia's Senate Courts of Justice Committee Regularly Kills Gun Violence Prevention Bills
I remember one Senate Courts of Justice Committee hearing in particular from 2018. A slate of gun violence prevention bills were set to be heard. One of them, SB5, would require universal background checks on firearm purchases. Most of the people who testified in support of the bill weren't lobbyists––they were, in fact, constituents of Sturtevant. They even identified themselves as so.
Five of Sturtevant's constituents told the Senate panel they wanted universal background checks. Senator Louise Lucas then asked everyone in the committee hearing room to stand if they supported universal background checks. Almost everyone stood.
Once supporters of the bill were done, the usual crew of gun industry lobbyists made their way to the podium. Virginia Citizens Defense League President Phillip Van Cleave––yep Virginia's own village idiot, the guy who was duped by Sacha Baron Cohen into filming a PSA about arming toddlers––said that universal background checks delay gun purchases by one hour and that's not acceptable. Oh boo!
Then Erin Luper, the lobbyist from the National Rifle Association, said that background checks don't work. WRONG. A recent study from Boston University found that states with universal background check laws have a 15% lower homicide rate than states that don't have universal background checks.
Sturtevant Votes For the Gun Lobby––Not His Constituents
The vote happened and as predicted universal background checks were defeated AGAIN by a party-line vote. It seems like the gun lobby has Sturtevant's ear more than his constituents do.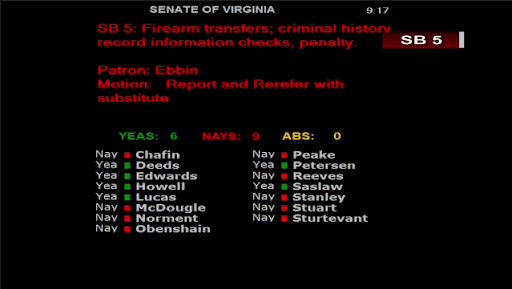 During the 2019 General Assembly session, Sturtevant voted with other Republicans against six bills that were aimed to prevent gun violence in the Commonwealth. Most notably, he voted against SB1748, a bill that would have banned the sale of high-capacity magazines like the ones used in the Virginia Beach massacre.
Sturtevant's votes are hurting the people of the Commonwealth. Once again, we have a tragedy caused by gun violence and we know that the conservatives are going to side with the gun lobby.
Sturtevant will be back at the state Capitol tomorrow with other legislators for the special session on gun violence prevention session. We need you to get in touch with your lawmaker and tell them to take responsible action to make Virginia a SAFE place for everyone––a place where we don't have to constantly worry about violence erupting at our schools, places of worship, workplaces and public buildings. Email your legislator today and tell them to vote for commonsense gun violence prevention!
Read our other blog on gun violence prevention: