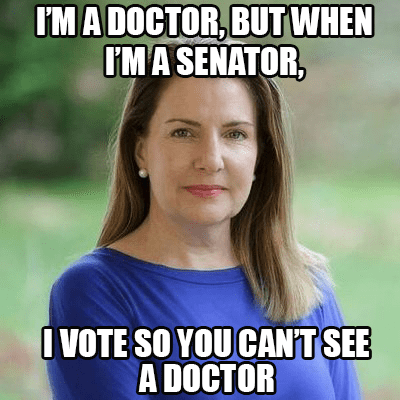 Republican state Senator Siobhan Dunnavant is running scared in her re-election campaign. She's flat out lying in TV ads about her voting record on health care, saying she's fighting for "affordable, quality health care" for Virginians. Dunnavant should be nervous–her Henrico County district is leaning more Democratic and health care is important to her constituents.
Dunnavant likes to boast about being the only doctor to serve in Virginia's state Senate, making her a de facto authority on all things related to health care. So I find it really mind-boggling that she consistently votes to deny health coverage to Virginians. Could it be that her loyalty lies closer to her Republican ideology than her Hippocratic oath, "first do no harm"? 
I don't have enough fingers to count how many times Dunnavant has opposed expanding access to health care to Virginians since she was first elected in 2015. I'll just point out some of the most egregious examples.
1. Dunnavant Opposed Expanding Health Care To 400,000 Virginians
On May 30, 2018, the Virginia Senate voted 23-17 to expand Medicaid to 400,000 low-income Virginians. Four GOP Senators broke ranks with their party to vote for expansion because they knew it was the right thing to do––Dunnavant wasn't one of them. 
In the months leading up to that historic vote, advocates pressured Dunnavant to vote for expansion, hoping that her profession as a doctor would free up some compassion in her heart. I was part of a protest outside of the hospital where she works to let her know that people would die if Medicaid wasn't expanded in Virginia. At the protest, people shared their personal stories about how access to health care would change their lives. We canvassed in her district, asking voters to contact Dunnavant to urge her to vote in favor of Medicaid expansion. Her constituents penned letters to the editor, hoping to get a yes vote from Dunnavant. She didn't listen to us.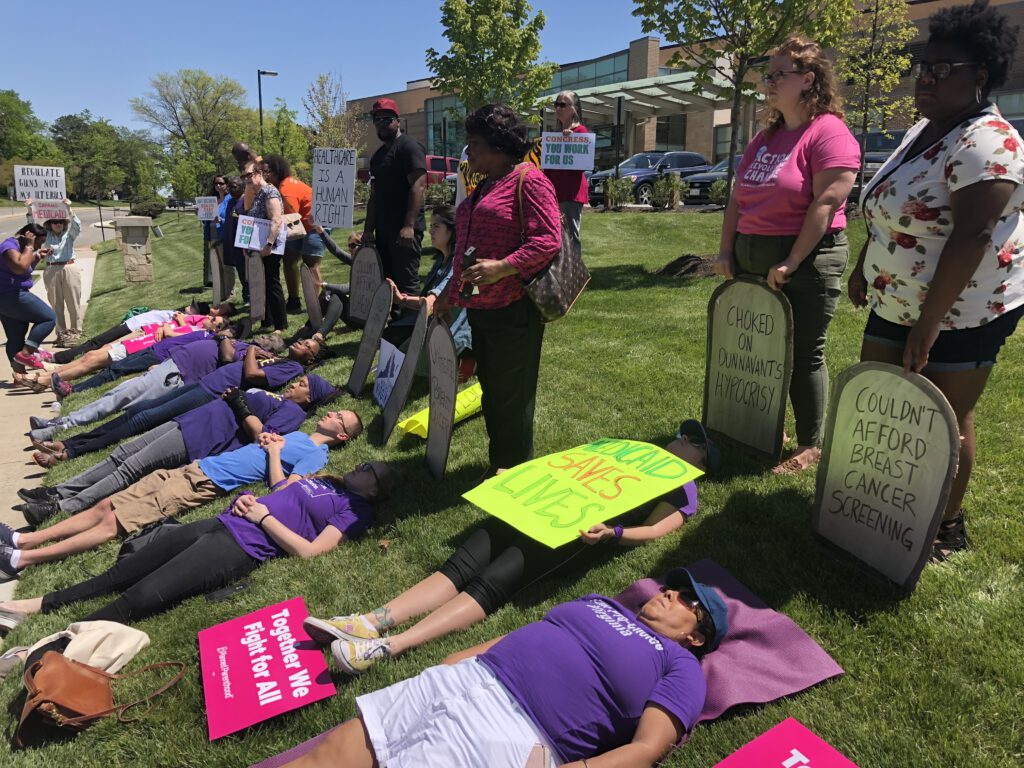 When Dunnavant first ran for office in 2015, she ran a campaign explicitly saying she would fight against Medicaid expansion and oppose the Affordable Care Act (ACA)––you know the monumental health care reform passed in 2010 that gave 20 million Americans health coverage? Nope. Dunnavant doesn't like the Affordable Care Act. You won't find this old campaign ad on her website, but she called out "cry baby politicians" for wanting to expand Medicaid. Sorry, expanding access to health coverage to low-income Virginians doesn't make a politician a crybaby. Opposing health care coverage, however, makes you a coward.
2. Dunnavant Is A Practicing Gynecologist, But She Votes Against Reproductive Rights
Imagine my surprise and horror one day in 2017, when I arrived at a new ob-gyn's office for my annual exam and saw Dr. Siobhan Dunnavant's name on the door of the office. Eww. I wanted to turn around and leave, but I went through with the visit because I was seeing a doctor other than Dunnavant. I never went back for another visit, however. I couldn't bring myself to support a medical practice with a doctor on staff that believes politicians have the right to interfere in the private decisions that should be between a person and their doctor. To me, that betrays the boundaries of the doctor-patient relationship.
As a politician, Dunnavant has consistently voted for restrictions on abortion. As a member of the Senate Education and Health Committee, Dunnavant is the first stop for most of the reproductive rights legislation introduced in the Senate. In 2018, she received a 0% rating from our partners at NARAL Pro-Choice Virginia because she voted against repealing Targeted Restrictions on Abortion Providers (TRAP regulations), removing ultrasound requirements for people seeking an abortion and minimizing trauma for victims of rape or incest. She also voted against the Whole Women's Health Act, which would undo legal restrictions on abortion.
 To add to this already long list, Dunnavant voted to defund Planned Parenthood. Doing this would cut thousands of low-income Virginians off from health care. People don't just rely on Planned Parenthood (PP) for abortion services––they go to PP clinics for regular healthcare like cancer screenings, testing for sexually transmitted infections, and family planning. And to top it all off, Dunnavant believes that IUD's cause abortions, an unscientific and widely debunked piece of anti-abortion rhetoric.
3. Dunnavant Voted Against Protecting People With Pre-Existing Conditions
In 2019, Dunnavant voted with other Republicans for SB 1674. The bill would have opened up Virginia's health insurance marketplace to short-term, limited-duration health plans. The bill was vetoed by Governor Ralph Northam because such plans are allowed to discriminate against individuals with pre-existing conditions, impose lifetime and annual caps, and are not required to provide essential health benefits. These short term policies also don't cover maternity care, prescription drugs, or mental health care. What's the point in having health insurance if it doesn't cover the basics?
Think Twice When Dunnavant Says She Cares About Affordable Health Coverage for Virginians
If you live in Siobhan's district, check out who's running against her this November 5 in our Progressive Voter Guide. If you don't live in her district, but believe that access to healthcare is a right that politicians should protect––not take away––check the Progressive Voter Guide to see who's running in your area to protect health coverage for Virginians. Then, go ahead and vote on November 5! 
Read Our Other Coverage on Senator Dunnavant: