As a kid, going to family cookouts was my favorite thing to do over the summer. Since we lived further away, I only got to see my extended family a couple times a year, so I really cherished the experience. All of the kids in the family got to hang out with each other and run around in the backyard of my nana's house. You could smell the food cooking from the porch steps; greens, mac n cheese, homemade burgers … The house would be alive with laughter and games, everyone just enjoying one another's company. As I've gotten older I realized that moments like that weren't easy to come by. Between the struggles of adulting and navigating the scary politics of today it's hard to find a moment to just come together and enjoy each other.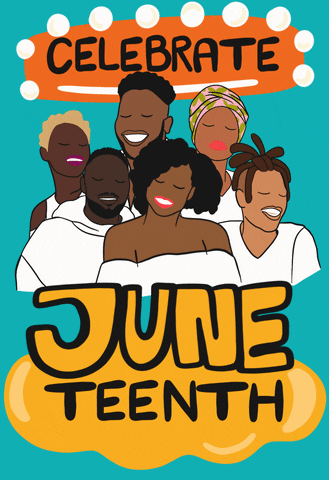 For me, Juneteenth provides that time. As a Black woman, being able to celebrate a holiday like Juneteenth serves as a time to appreciate the moments in which I can embrace my culture once again. Juneteenth is a celebration in the local park, hanging with the people of my community. It's hearing music from my people and resonating with the message of love and freedom embedded in the lyrics. It's being able to be authentically Black without fear of repercussion or prosecution. I'm very excited to experience Juneteenth this year. Being a part of my community, being able to experience my culture means the world to me and despite the traumas that we've had to go through I wouldn't trade it for the world.
While I will spend this weekend celebrating my Blackness I want to remind everyone that there is a ton of work to do when it comes to eradicating the systems in place that have degraded, dehumanized and appropriated Black people and culture. The first step to making sure we end these injustices is to educate yourselves about ways in which you contribute to said system. Check out our reading list on IG for some great reading material from Black authors that expound on just that. I recommend The Fire Next Time by James Baldwin.